Dietary Fiber: A Key to Senior Wellness
Dietary fiber consumed daily by the average American of all ages is about half the recommended minimum daily requirement of 25 to 30 grams per day.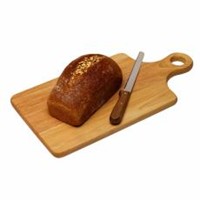 This shortfall contributes to many diseases, particularly among the elderly. Some of these are cancer of the colon, high blood cholesterol, arteriosclerosis, diabetes, diverticulitis, constipation, hypertension, obesity, and gallstone formation. We will discuss some of these in detail.
Dietary fiber is found in fruits and vegetables, nuts and grains. It is not found in dairy products, eggs, meat, seafood or poultry.
There are two kinds of fiber; soluble and insoluble and many foods contain both. Each has a separate function.
Soluble Fiber...It's function is to bind with fatty acids and slow the stomach emptying time so that it has more time to release and absorb sugar.
Sources
Fruits such as apples and oranges
Vegetables such as carrots
Oat/Oat bran
Dried beans and peas
Nuts
Barley
Flax seed
Psyllium husk
Soluble fiber can control diabetes by regulating blood sugar. It also helps reduce risk of heart disease by lowering LDL ant total cholesterol.
Insoluble Fiber...It's function is to control and balance acidity in the intestines and move bulk through the intestines.
Sources
Fruit skins and root vegetable skins
Green beans and dark green leafy vegetables
Whole wheat products
Wheat oat
Corn bran
Seeds and Nuts
---
How Dietary Fiber Fights Disease
Cancer of the colon
...A recently published study showed that whole grain fiber, and not fiber from other food sources, is associated with lower risk of colorectal cancer. This study points out that the fiber one gets from whole grains is different than the fiber one gets from "starchy" foods like white bread and processed cereal.
High blood cholesterol ...The soluble kind such as that found in oat bran, is the type of fiber that actually washes away the bad cholesterol that clings to the inner walls of the arteries.
Diverticulitis...Increasing the amount of fiber in the diet may reduce symptoms of diverticulitis and prevent complications. Fiber keeps stool soft and lowers pressure inside the colon so that the bowel moves easily. However, care must be taken is selecting foods as some seeds and nuts may irritate the condition.
Diabetes ...By delaying stomach emptying, it slows the digestion of starches and sugars and thereby reduces blood glucose spikes. It also decreases the level of cholesterol in our blood, which reduces our risk of heart disease, the main complication of diabetes. Both of these types of fiber fill us up without adding calories.
Hypertension...Reliable studies have shown that an increased consumption of soluble fiber-rich, whole-grain, oat-based cereals may be able to reduce the need for medication among individuals being treated for hypertension.
Obesity...A high-fiber diet appears to help you control your weight even better than a low fat diet. High-fiber foods tend to be lower in fat and sugar than other foods, filling you up without excessive calories.
---
Getting into the high fiber habit
You don't have to do this all at once. Start by replacing white bread with whole grain bread, white rice with brown rice. Add more beans and legumes, veggies, fruits, seeds and nuts. Any foods with more than 4 grams per serving are categorized as food high in fiber.
Make a habit of reading nutrition labels in the grocery store. One of the most popular and highly touted breakfast cereals has less than one gram per serving while some high bran cereals have as much as 12 grams per serving. The popular ones are highly fortified with vitamins which you should be getting from whole foods.
Substitute nuts or dried fruits for regular snacks. Pecans and walnuts are very high in fiber. Two medium dates have four grams of fiber and dried apple rings and apricots are excellent sources.
If you want to get a lot at one time try split pea soup or any kind of canned beans.
Here are two extreme examples of fiber for breakfast:
Two eggs and bacon with two slices of white toast contain less than 1.5 grams of fiber. All Bran cereal with a sliced banana and one slice of whole grain bread contain 18 grams of fiber, well over half the daily requirement.
Get into the fiber habit. You will like it and you will feel good and nothing is more important than feeling good.


---
Return from Dietary Fiber to Diet

Return from Dietary Fiber to Vitality After 60 Homepage